Posted:
August 26th, 2009 |
Author:
Erin Clotfelter
|
Filed under:
Misc.
|
5 Comments »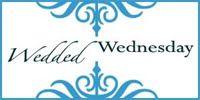 My husband and I met at work. He was straight out of business college, new to the company, and I? Well, I'd been around for awhile. If you've been around, it's always a big adjustment when the new kids arrive from business college.
At first glance, and knowing what little I knew about him, I have to say I wasn't impressed. I mean, he was pretty smokin' hot. But he was a frat boy. I guess if you go to school in the South that's heavy on the Greek you have strong feelings one way or the other. My feelings fell on the "Greeks are douchebags" side. So yeah. I didn't really have the time of day for him.
As the year wore on and he fumble through what was obviously not the job for him, I softened.
He wasn't so bad. He was pretty funny. We listened to the same music. He knew how to go out and have a good time. We had the same views on almost everything. And he liked to talk. Boy could he talk. Talking is my favorite sport- even comes before hockey.
One night after a long meeting at work I invited him to come to the graduation party we were having at my friends apartment. From that night on we were inseparable. It's like something just clicked.
Shortly after that party he left the company. I like to think because we never met in any of the classes we had together (how do you not meet someone in a class size of 12?) he was "sent to me" at work in a last ditch attempt at "fate". Highly romanticized don't you think?
17 months after that party we got married. Sure we've had our ups and downs (we lived with my Mom for a year after her divorce!) and don't always see eye to eye (he's a recovering republican, I fall hard to the left) but we always always always get back to where we need to be, where we WANT to be.
And that talking as sport thing? Gets us through EVERYTHING.
Related Posts:
---