Posted:
February 3rd, 2011 |
Author:
Erin Clotfelter
|
Filed under:
Breastfeeding
|
Tags:
#Judahthetank
,
Breastfeeding
,
Nursing in Public
|
16 Comments »
It's Week 5 of the Breastfeeding Blog Hop. This week's topic is NURSING IN PUBLIC.
Nursing in Public
The past two weeks I've spent a lot of time at a local hospital.  A LOT of time.  Pumping wasn't always the easiest thing to do with docs and nurses in and out of the room every 30 minutes or so and no real private place to go.  I was starting to freak out a bit.  My supply issues are real and every day I am worried that it will be my last day.  I was dry the day after I stopped pumping for the boys.  No engorgement.  Dry.
Thankfully the prayers for my sister that were peppered with my prayers for milk panned out.  Each day I held on. 
One day I was just going to run in to visit for a few hours.  I thought it might be nice to bring Judah.  Jenna was getting better and I thought everyone would like the distraction of a plump baby.  I would welcome the opportunity to nurse instead of pump.  So in we went.
When he was getting hungry I walked him out into the lobby of the floor we were on.  I could have nursed him in her room, but I chose a place that seemed more condusive to the task at hand.  A lovely room with a cascade of windows and a waterfall.  I found a nice leather chair and got down to business.  He latched right away and I relaxed.  I had him loosely covered with an Udder Cover but he hates to have anything over his face so if you were interested, you could see what was going on.
A family walked behind me and the grandmother exclaimed "She's nursing her baby!" in a knowing, motherly, supportive way to who I assume to be her daughter and grandchildren.  That was nice to hear.  Another woman walked by and stopped to talk to me, Judah stopped mid-suck and gave a big smile.  "He's getting teeth!"  she said.  I told her I was hoping she was wrong on that one and we both smiled.  Judah went right back to nursing, slowly falling asleep.  She was right though, he got two teeth on Sunday!
Of all of my nursing experiences, in public or not, this was one of the most relaxing.  Waterfall, comfy chair, supportive people milling around and a baby who missed his Mom and his favorite food source. 
It was a perfect little oasis in a stormy week.
If you're new to blog hops, please check out this post: How To Blog Hop

This Week's Guest Host:
Here are the guidelines for this blog hop:
Follow the 4 blog hosts for the week (spots #1-4). Spot #4 will always feature a blogger randomly selected from the previous week's blog hop.
Link up your post related to this week's topic (see above) so others can find it. Please link directly to your post, not your blog's homepage.
Check out some of the other blogs from the Linky. Be sure to leave a comment on each blog that you found them through the Breastfeeding Blog Hop so they can follow you back!
Repost the linky (link for the code is in the lower right-hand corner of the linky below) on your blog to help promote the blog hop. Be sure to add some info about YOU so others have a place to say "Hi" & let you know they're following.
Grab the button below if you'd like and display it in your linky post or your sidebar.
This blog hop will be active from Thursday, 02/03 – Sunday, 02/06.
Be sure to include these guidelines when you add the Blog Hop Linky Code to your blog.
About The Slacker Mom – Hey there!  I'm Erin, a Mom to three boys ages 2 and under.  The past year has been a wild ride of adding our newest addition (#Judahthetank if you follow me on Twitter) battling supply issues, having the twins diagnosed with Autism the week before Christmas and now ending my career to stay at home.  I like good beer, bacon and chocolate Cokes.  Not always in that order.  I totally support women in breastfeeding and like to think I'm reasonable enough to know it doesn't *always* work like we plan.  And that is OK too.  Glad you stopped by!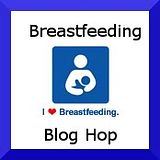 Related Posts:
---