Posted:
April 6th, 2011 |
Author:
Erin Clotfelter
|
Filed under:
Breastfeeding
|
Tags:
#Judahthetank
,
Blog Hop
,
Breastfeeding
|
2 Comments »
It's Week 14 of the BFing Blog Hop!
Topic: Breast Care
Share your tips, advice, and experiences with breast care while breastfeeding.
I think I've been fairly lucky in this department so far.  I did have that endless run of thrush that we were passing back and forth for about 2 months that coincided with Judah taking a little chunk out of my nipple with his new little chompers causing horrific pain for about two weeks but leading up to that and since that passed things have been pretty smooth around here.
I almost resorted to a nipple shield during that time simply to let the skin heal but right when I was about to do that things started to get better and I decided to see how it would pan out and everything started working just fine on it's own.  While Judah was taking the Nystatin for his thrush I was using an OTC anti-fungal cream and rinsing with a vinegar & water solution between feedings but as soon as we cleared the thrush we discontinued all of that.
Aside from that I have never had a need for creams or lanolin and think that rinsing with water (no soap!) and air-drying are pretty much the best tools you can use to keep everything clean and healthy.  Judah has had a great latch so that has prevented many issues.
I have never experienced mastitis and I really hope that at this point that never becomes an issue.  I believe this is an issue that pops up with engorgement and since I have the opposite problem I'm probably not likely to run into this.  I do have one duct that seems to get plugged every week or so.  It's not painful and usually Judah can nurse it out so I haven't had to resort to any extreme measures.
These breasts are working hard and they deserve to be treated gently.  Now if only Judah would listen to reason and take his frustration out on a teething ring instead of me we'd all be a little less skittish!
*****
New to blog hops?
You might want to check out: "How To Blog Hop"
Hosts:
Want to participate?
Here's what you need to do:
Link up a post! Find a post on your blog related to this week's topic. You can write a new post, or use a past post. (Be sure to use the URL for your linky entry, NOT your blog homepage. You may link up as many posts as you'd like, as long as they all relate to this week's topic.
Follow the blog hop hosts via GFC in spots 1-3 below. (We always follow back!)
Optional:
Share the linky by adding the code to the bottom of your post, along with these guidelines. (You can grab the linky code by clicking
the "Get Code Here" link in the lower right corner of the Linky box below)
Check out some of the other blogs that linked up – the more
blogs you follow (and comment on), the more followers you'll gain.
Grab the Breastfeeding Blog Hop button below and display
it on your sidebar or in your post.
This linky will be open two days – Thursday, 04/07 & Friday, 04/08.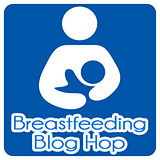 Related Posts:
---