Posted:
August 25th, 2011 |
Author:
Erin Clotfelter
|
Filed under:
Blogging
|
Tags:
CBS Local
,
Most Valuable Blogger Award
|
5 Comments »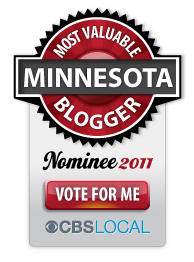 I recently noticed a bunch of hits coming from the CBS Local site and when I clicked over I found out that I had been nominated for their Most Valuable Minnesota Blogger award.
First of all, to whomever nominated me- THANK YOU! I've never been nominated for an award! I don't care if it's not cool to be totally excited about these things- I'm grinning ear to ear!
And now, I need everyone to click here and vote for me. Every day is good. Until September 9th. I also have a handy dandy button over on my side-bar that brings you right to my nomination page. I don't think you need to sign in so it's pretty easy.
People, I am up against a lot of terrific bloggers in the Lifestyle/ Family category, I need all the votes I can get!
Related Posts:
---