Posted:
August 25th, 2011 |
Author:
Erin Clotfelter
|
Filed under:
Breastfeeding
|
Tags:
Breastfeeding Blog Hop
|
8 Comments »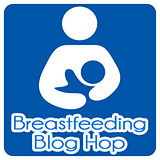 This weeks Breastfeeding Blog Hop is focusing on the less than supportive words we endure while breastfeeding. Whether they be from someone who has never been there, someone who doesn't know what our rights are as nursing mothers or even a well meaning albeit over zealous lactivist.
I've written about my issues with language surrounding breastfeeding support in the past and I think it needs to change. It is not all or nothing. When we set women up to fail, when we tell them that this is the golden ticket and then shame them when they go about their lives trying to reach this standard, well, there is a disconnect.
Back in January I was about at rock bottom. My sister was in the hospital. I had left my job on quite short notice following my sister's hospitalization. I was struggling to feed Judah. My twins had just been diagnosed with autism. I needed breastfeeding to work, and it wasn't working. One day while I was on Twitter there was a tweet about how breastfeeding isn't a "choice". The next tweet was something to the effect of "letting your supply dry up is a choice".
As someone who struggles with low-supply that was like a slap in the face.
Breastfeeding is hard. You cannot force that on someone who is struggling and you cannot place blame on someone who is already throwing everything but the kitchen sink at the issue that she's not doing enough. Every woman makes the choice. When to say when. When is it too much. At what point is it not worth the struggle. Everyone has their limit.
I eventually unfollowed that person on Twitter because every single time she tweeted about breastfeeding I would want to send my phone flying across the room. For a lactivist I found her mostly unhelpful and judgmental.
And I think that's the key- if you aren't hearing the message you need to hear, tune it out. There are plenty of people out there that do understand, that have been there, that get down in the muck with you and commiserate and support instead of standing above and telling you what you are doing wrong.
Find those people- ignore the rest.
The Breastfeeding Blog Hop is a weekly hop that runs Thursday and Friday. It is hosted by Jen at Life with Levi, Marah at Diary of a Devil Dog Wife and myself. Feel free to link up a pertinent post and check out what others have to say!
Related Posts:
---